With over two decades of full-time ministry behind him, Evangelist Pastor Mark Terry has a prophetic anointing and proclaims the gospel. He has remained committed more than ever to preaching the gospel of Jesus Christ and walks in the mighty and miraculous power of the Holy Spirit. As a young boy at the age of 12, while asleep Jesus Christ appeared to him and ever since his encounter, he knew he was called to be a Pastor.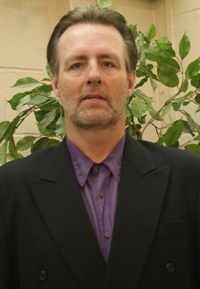 Mark is the senior Pastor of First Worship Church and Praise in Pontiac Michigan. He was born in Michigan but graduated from Liberty University in Virginia.
The vision that God gave Evangelist Mark Terry is almost similar to that of a car with low fuel. Have you ever driven a car and ran out of gas? Or the "low fuel" light comes on? What do we do? We tend to panic or frantically search for the next Gas station right? Christians these days become so absorbed with the emergencies of life and don't notice how low our spiritual tank has gotten. A car is meant to have gasoline and the same with our spirit. We need the gasoline of God to fill us up and keep us moving. God told Mark that First Church of Worship and Praise will be a gas station. People will come from all over to be filled as long as they position themselves at the pump. There will always be a constant flow of people that will come to the church but not stay. The purpose is not for people to come and dwell in the church but to come get filled up just like we do at the gas station and move on. First Church of Worship and Praise has had thousands of people come through the church and move on just like God told Mark. When we position ourselves at the gas station (First Church of Worship and Praise) Jesus Christ will meet you there with a free bottomless tank of spiritual gasoline and fills us up with hope, love, healing, deliverance, financial breakthrough; he filters all pain, suffering, doubts
Mark preaches and minister with a powerful prophetic and healing anointing. He has been devoted to creating a church where people can hear about God and receive their healing. He teaches practical messages every weekend that are meant to encourage and present helpful insights and help for everyday life. On Sunday, most people's first encounter with Pastor Mark is usually right at the front door or somewhere near the entrance before each service, greeting guests as they arrive.
Are you low on fuel? Well you've come to the right place!